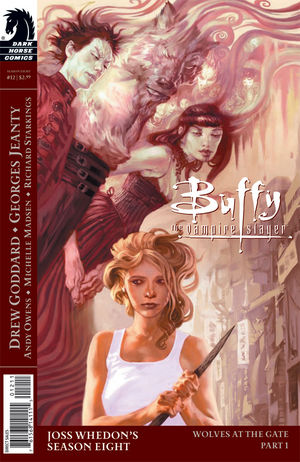 Goddard, Drew (2008).
Wolves at the Gate
: Buffy the Vampire Slayer Season 8, Issue 3.
Cover source: Dark Horse Comics
Andrew: Oh, hi, Buffy. Hi, nude Asian girl…. How much Dramamine did I take?

—Drew Goddard
Wolves at the Gate comprises issues 12–15 of Season 8. As of this writing, it has not been reissued in book form, but that is only a matter of time given the previous history of this series.
Wolves returns the focus to Buffy, but it still feels like an arc device. That is, its main purpose seems to be to move the season along rather than to stand on its own. When BtVS was on the air, each season always included at least one show so dedicated. While important to the season, they were never very satisfying.
Wolves is an improvement on these other arc devices in that it provides a look at new facets of Buffy's character. It also provides some insights into the relationship between Xander and Dracula, who appears to fight on the side of the slayers out of personal vanity because a group of upstart vampires in Tokyo have stolen some of his powers.
But Drew Goddard is what really separates Wolves from previous arc devices. He brings the wit and humor that characterized the series to the comic form. The writing is superb, making us fall in love with the characters again. What this episode lacks in plot, it more than makes up for in character development. Maybe, it isn't just an arc device after all. Read it and decide for yourself.